You may already know of my growing obsession with making quilted advent calendars...well it all started five years ago when I made a couple for an online showcase "Tis the Season to Sparkle" hosted by Love Sparkle (then called Sparkle Showcases). Not only is it fun making these, but there's something very gratifying about cutting then pressing then pinning then stitching those little pockets in place and adding my personal touches to make the end result extra special. 
Adding decorative buttons to my Midnight Christmas advent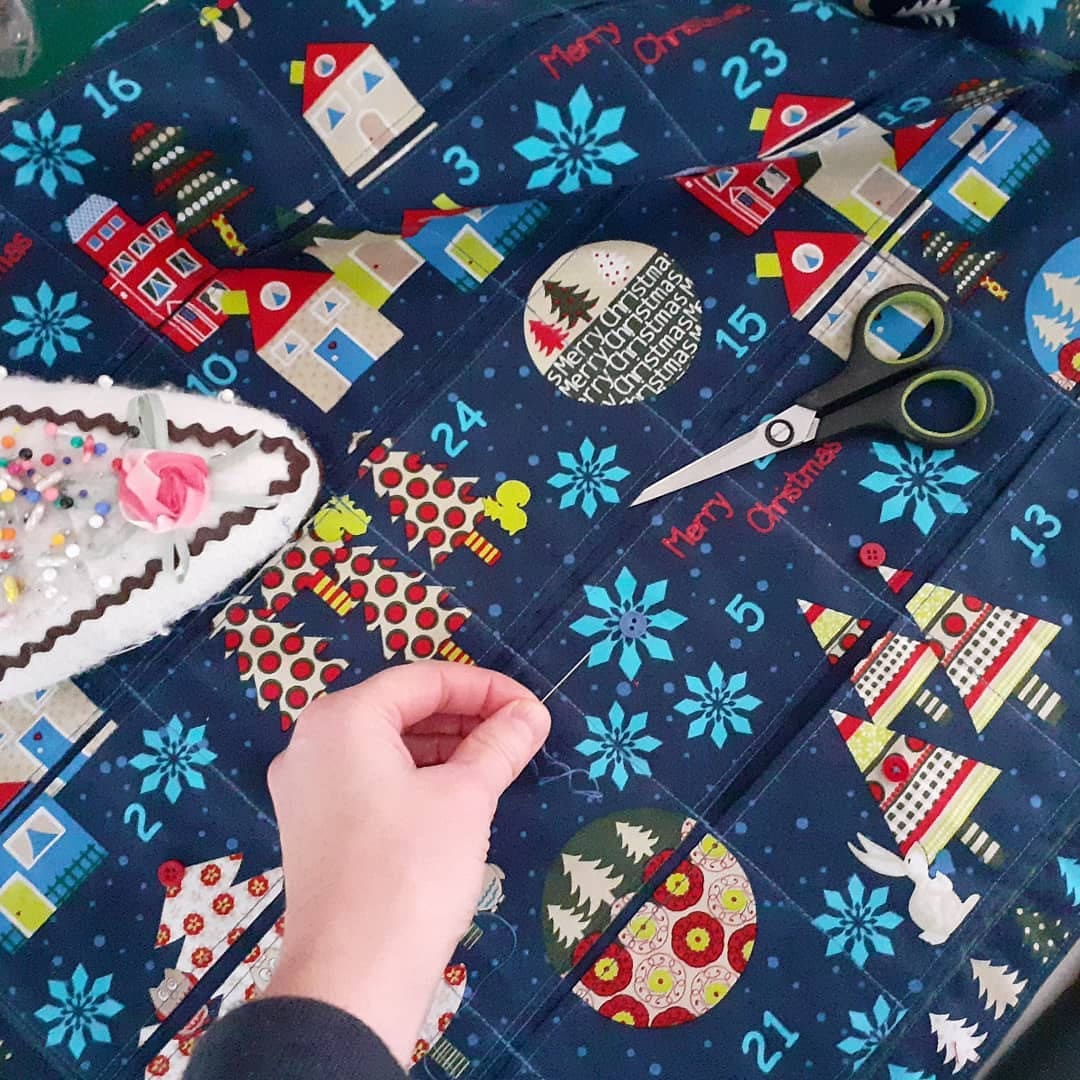 And there's something rather special in knowing that each calendar will be cherished by a family for years to come. Some of my lovely customers have even purchased multiple calendars over the years for both grown ups and new additions to the family!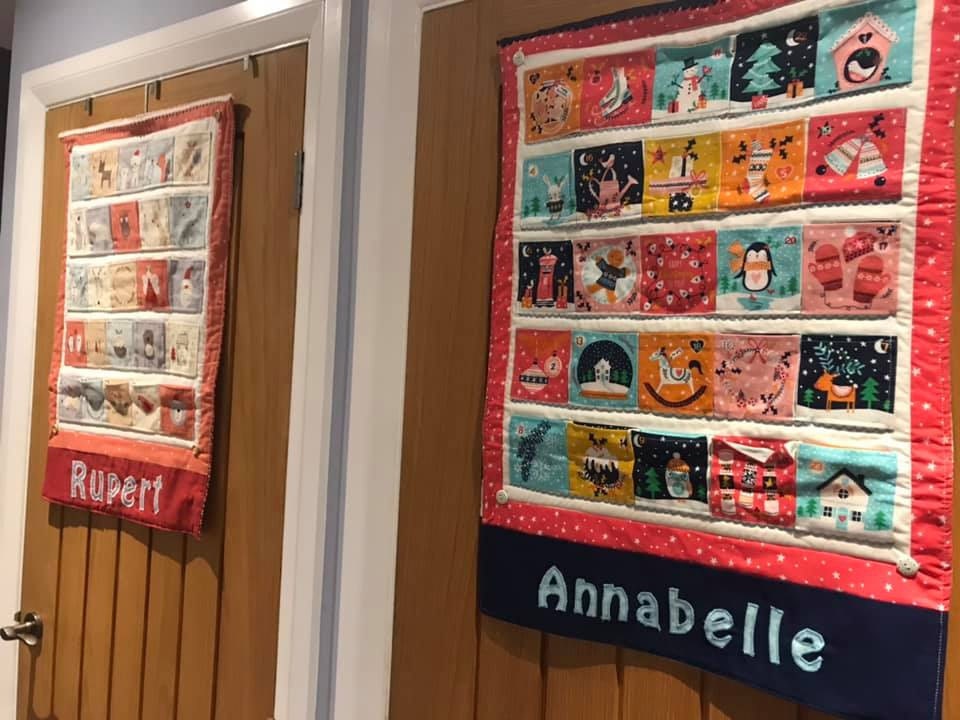 Five years on, I'm still making advent calendars and am also still taking part in Love Sparkle events, with their Sparkle's Handmade Christmas market night on 1st November. I will have three very different but equally beautiful advents available to order. 
Festive Friends advent calendar, with pleated pockets in jumbled order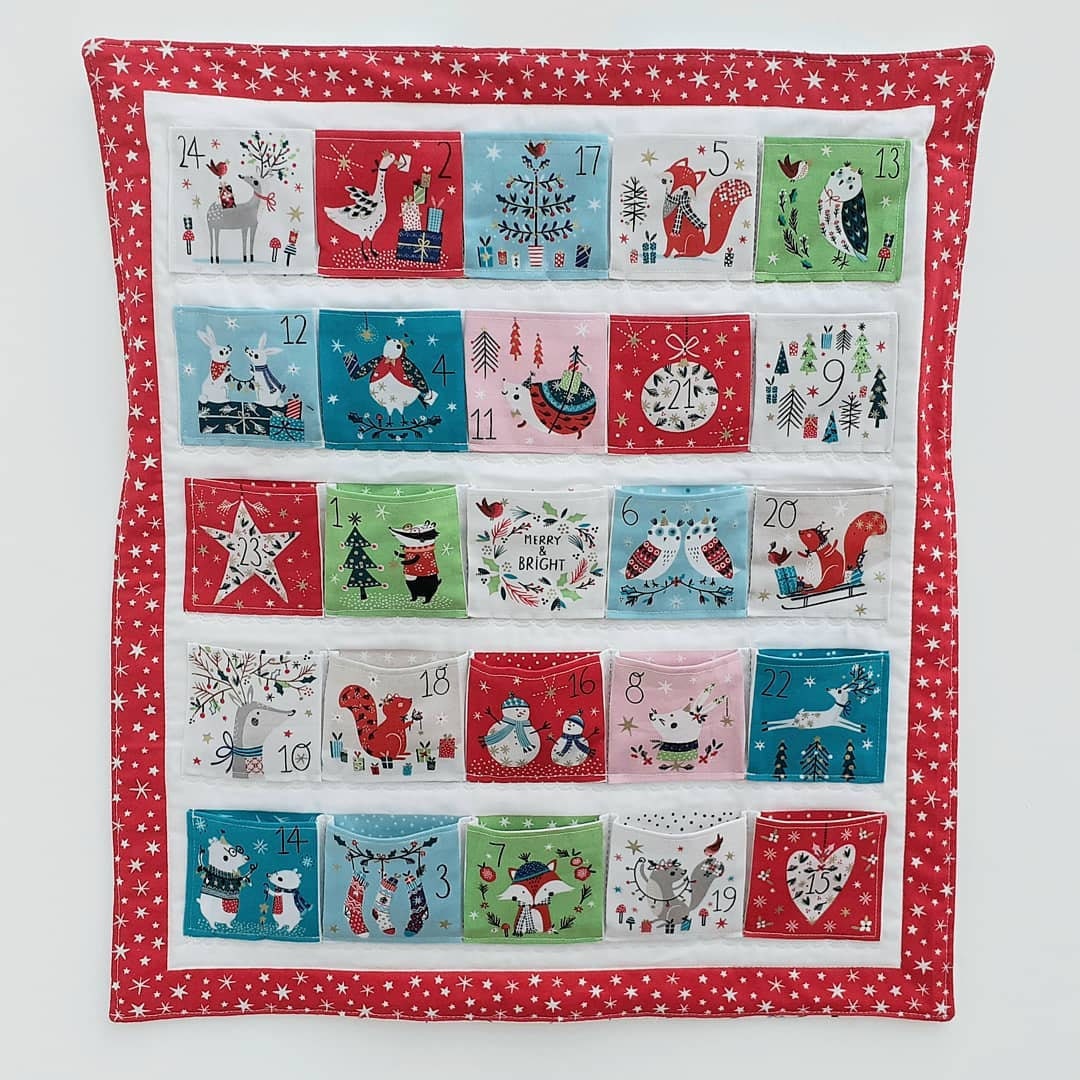 Woodland Animals advent calendar, a smaller advent but with bigger pockets!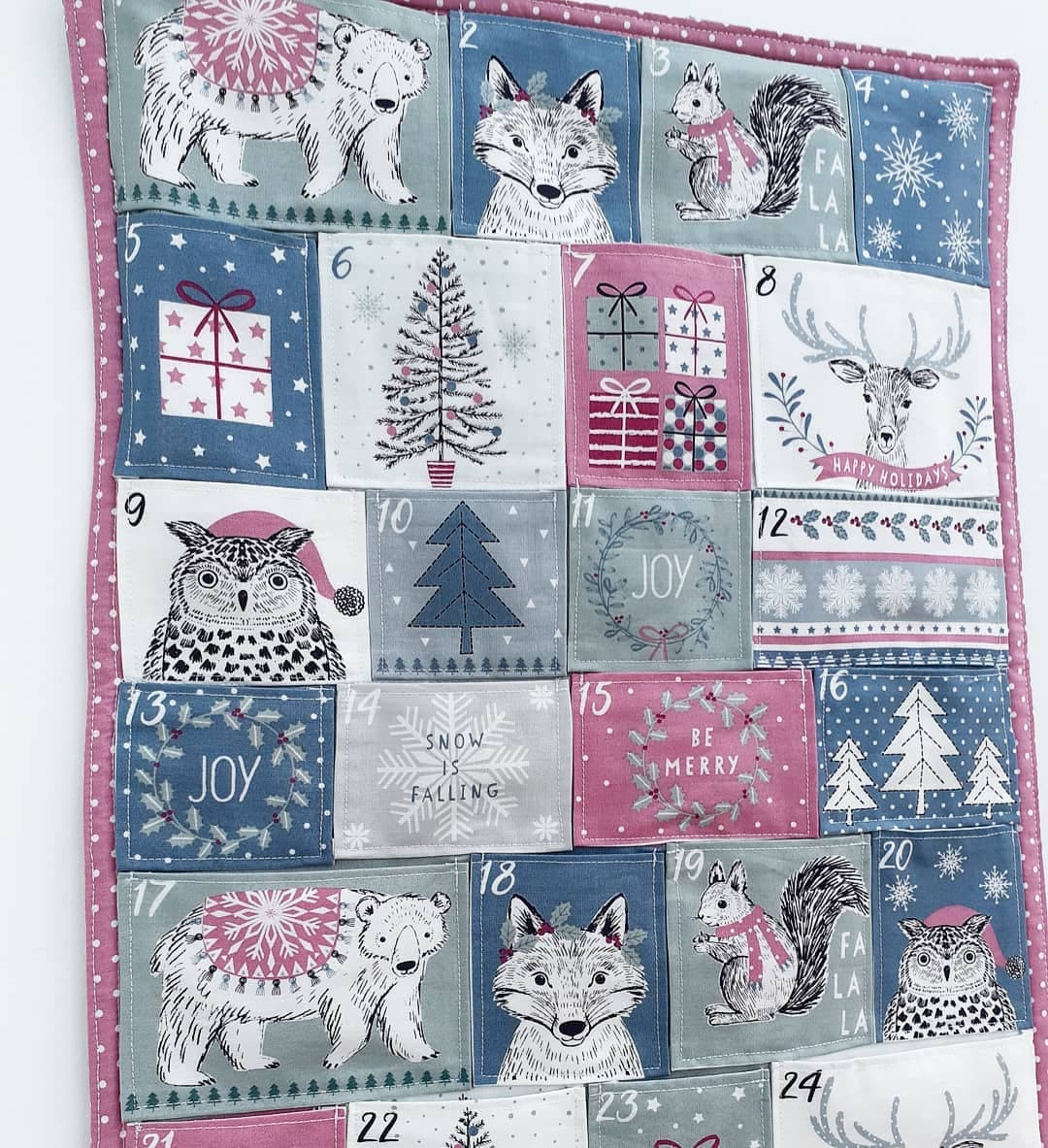 Christmas Town Advent with decorative stitching to highlight the roads and shops.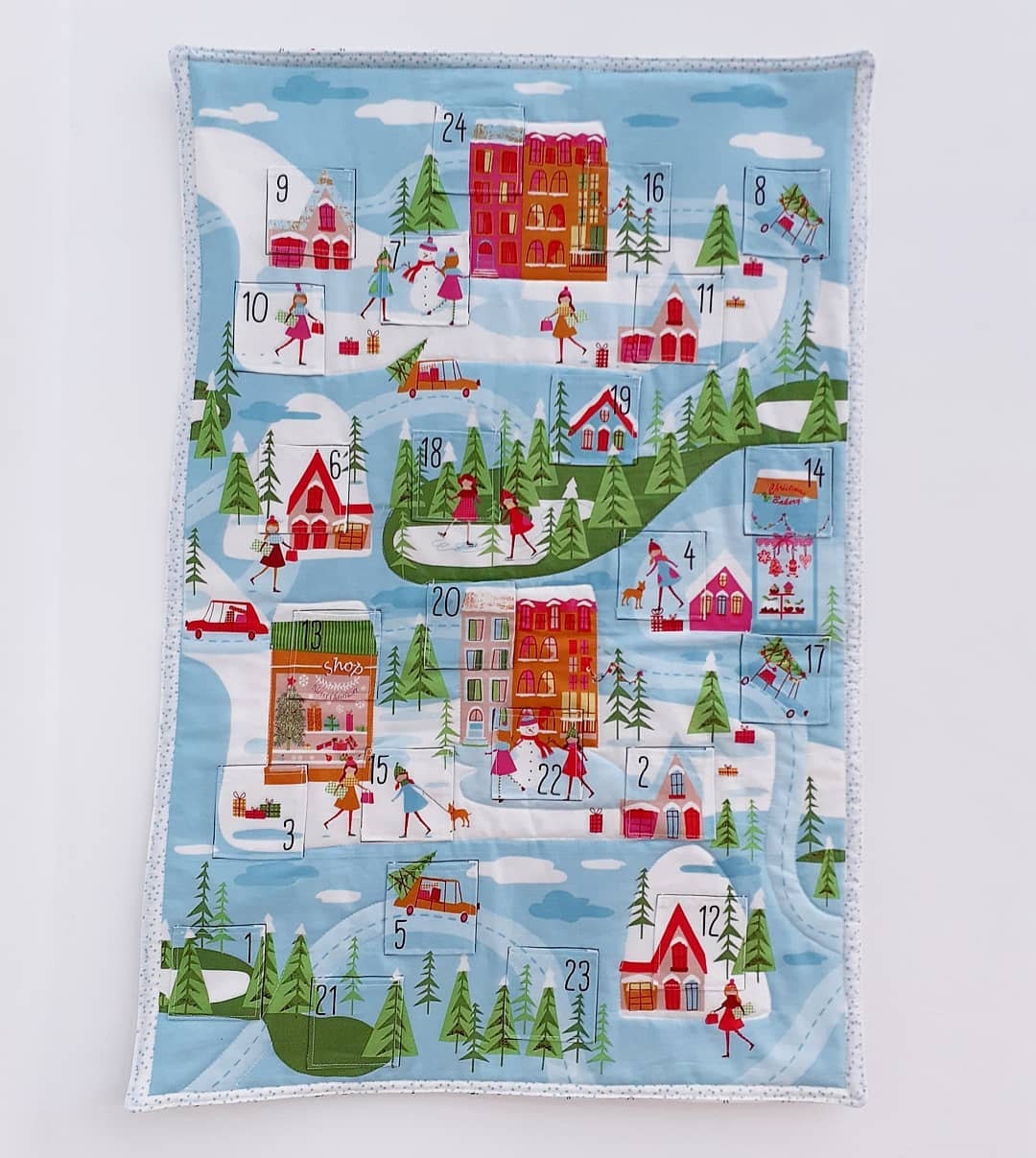 But I hear you saying "What to put in all those pockets?!"  Well before you grab the obvious bag of chocolates or sweets from the supermarket, check out my list of ideas!  I asked my maker friends what they had in the way of treats that could go in my advent pockets (perfect stocking fillers!) and have also received some great ideas in the past from customers who have bought my advents. 
25 handmade treats from small businesses
1. Hand tempered Belgian chocolates from Lilypad Bakery at Gingerbugs and Co
2. Nutcracker lip balm from Ascent Bath & Body
3. Wish bracelets from Honda and Hollie
4. Star stud enamel earrings from iamrachel
5. Enamel pins from By Kate Elford 
6. Resin art hanging decorations from Moving Canvas
7. Glittery hair slides from Lily Rose by Ruth
8. Pocket mirror/magnet from Newton and the Apple
9. Festive lollipops from Willow & Boo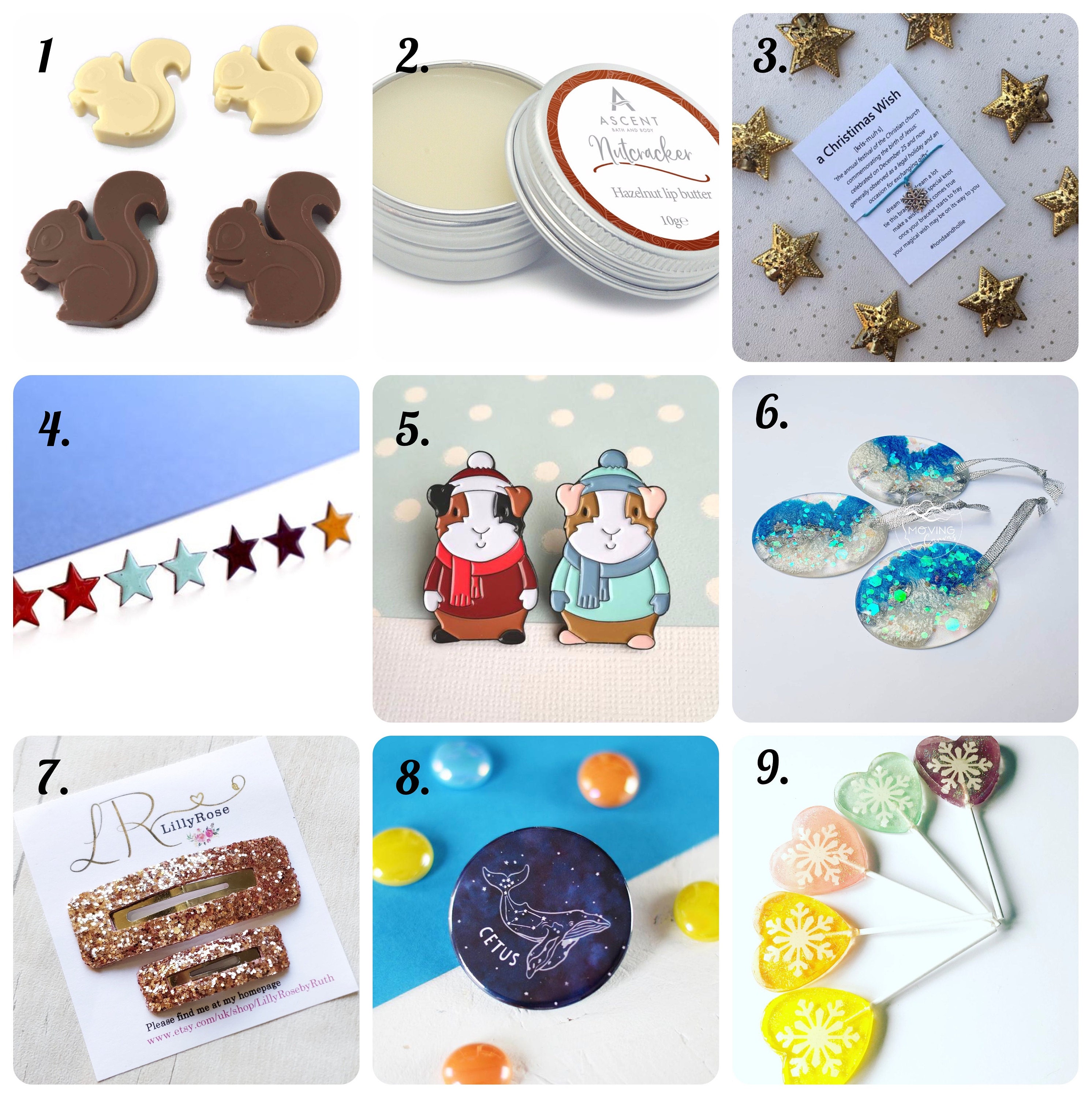 10. Clay hedgehog keepsakes from Fox & Bracken
11. Crocheted rainbow keyring from Beaky 
12. Felted Robin brooches from Wild Brambling
13. Flamingo fridge magnets All that she makes
14. Penguin crayons from Crazy House Crayons
15. Festive hair bobbles from Frere Bears
16. Baby Elf knitted booties from Mabel and Lottie
17. Winter Liberty hair scrunchies from Blossoms
18. Rainbow glass pebbles Fused Glass by Emily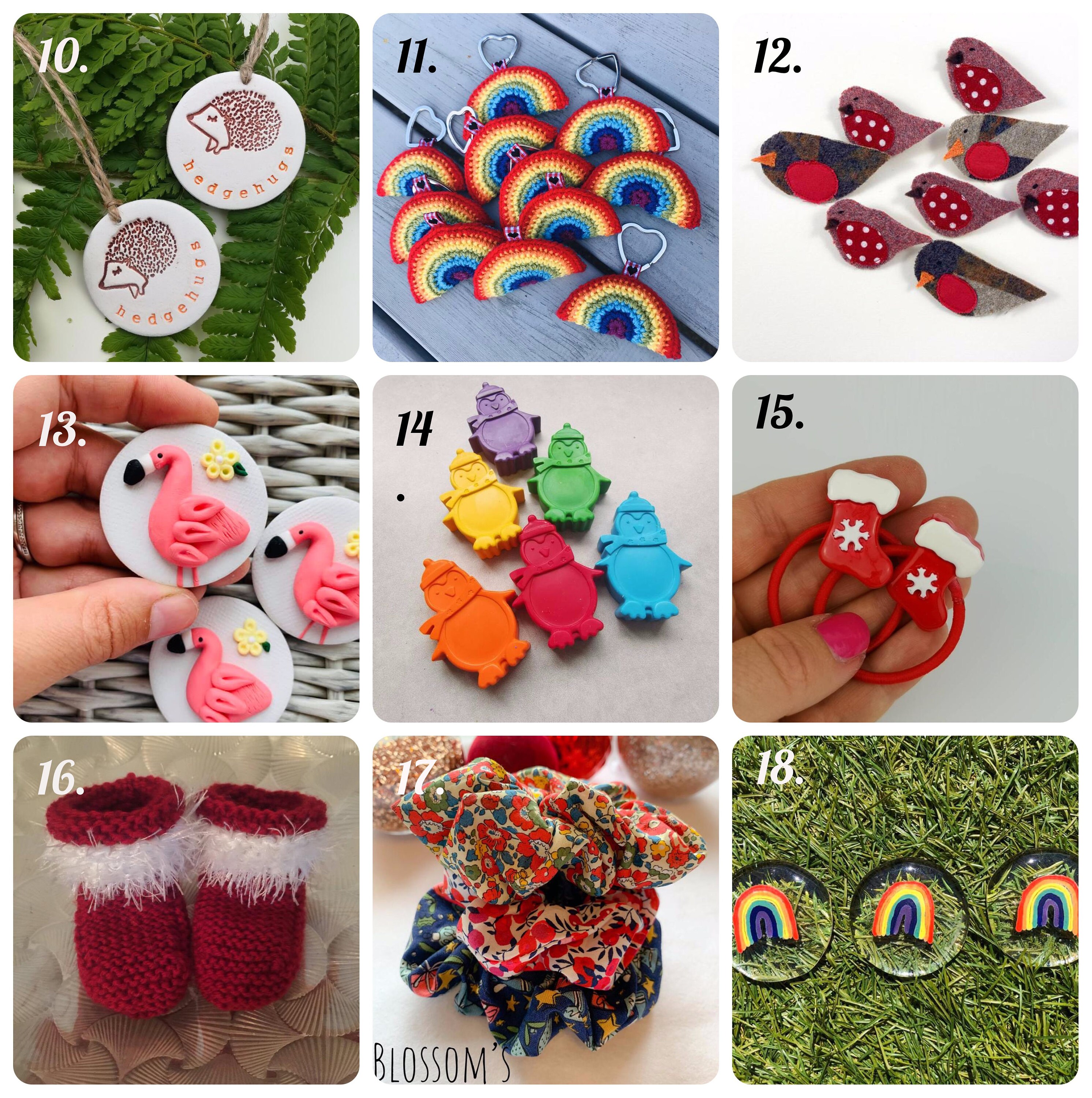 19. Blank wooden decorations from Devon Laser Print
20. Fun festive earrings from The Stringer Edit 
21. Mini festive bath bombs from SIWellness
22. Nail file with sleeve by White Stitch Lane
23. Cactus Kawaii keyring from Pippa Jayne
24. Stars make up remover pads by Avocado Handmade
25. Nutcracker felt decorations by Lucy Mae Designs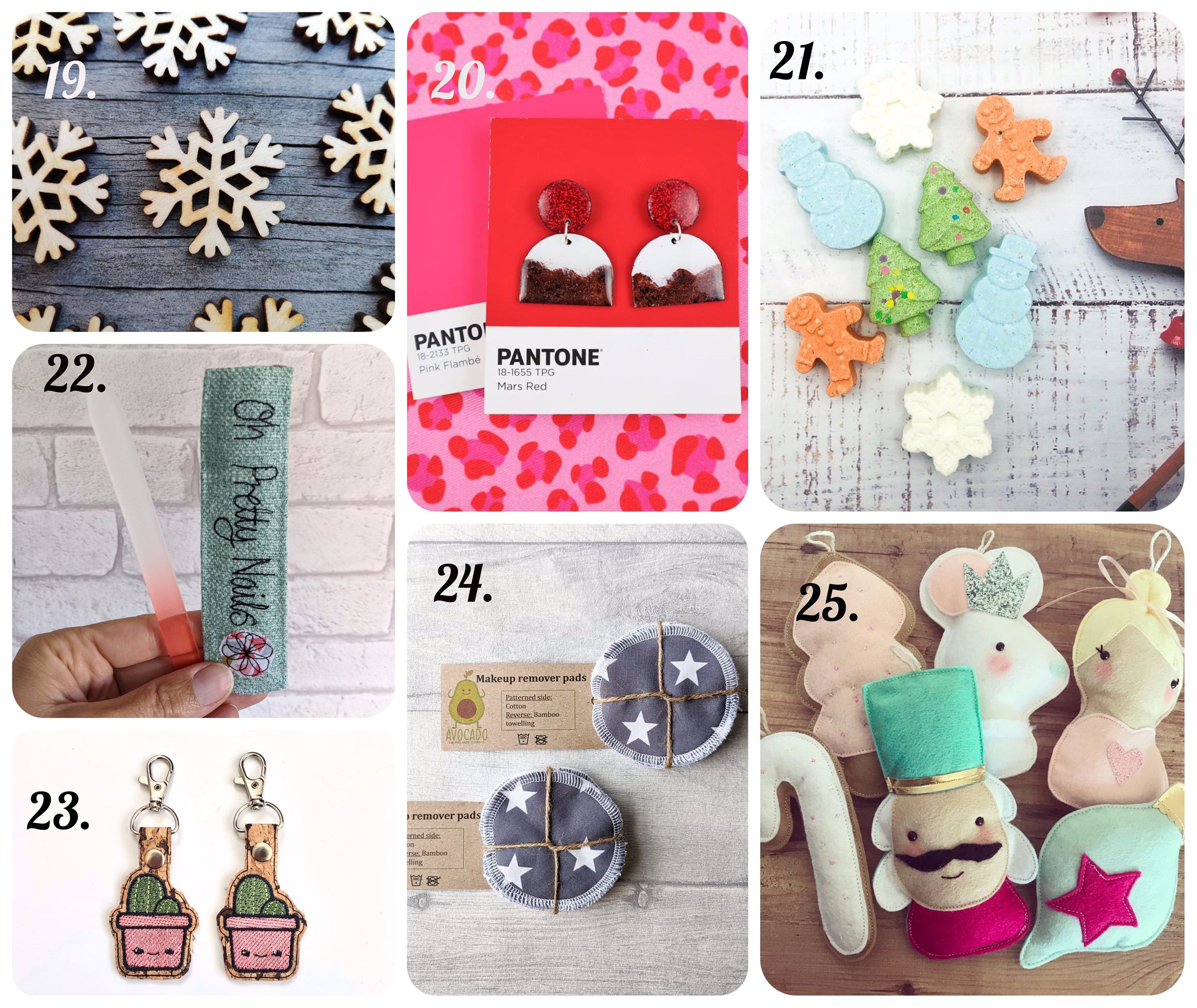 More fun ideas to fill those pockets:
Reindeer food (envelope with porridge oats and edible glitter)
Festive cutters with rolled up cookie recipe
Tickets for a day trip to a favourite place (e.g. Zoo, cinema, mini golf)
Booking for a meal out at a local restaurant
National Book Voucher for an independent bookshop
Loads of festive craft and baking ideas from the Polkadot Chair
Well I don't know about you, but after seeing all those beautiful makes from my fellow crafters, I don't think there is any excuse not to shop small and handmade this Christmas! Believe me when I say that the person you are buying from (yes person, not mass manufactured in a factory somewhere far away), will most definitely do a happy dance in honour of your purchase! 
Happy festive shopping!
Louise