No it's not for a parachute really, it's a brand new backpack pattern from Sincerely Jen Patterns! I had to hunt for the "Friends" episode where the line "Parachute Knapsack" comes from, and if you're a fan, it's the one where Chandler suggests to Monica that if they're both still single by 40, maybe they could get together and have a baby. Monica immediately takes the humph, asking why she would still be single at 40, what's wrong with her, why wouldn't anyone want her, etc. Realising his mistake, Chandler looks over his shoulder in a panic and exclaims "Dear God, this parachute is a knapsack!"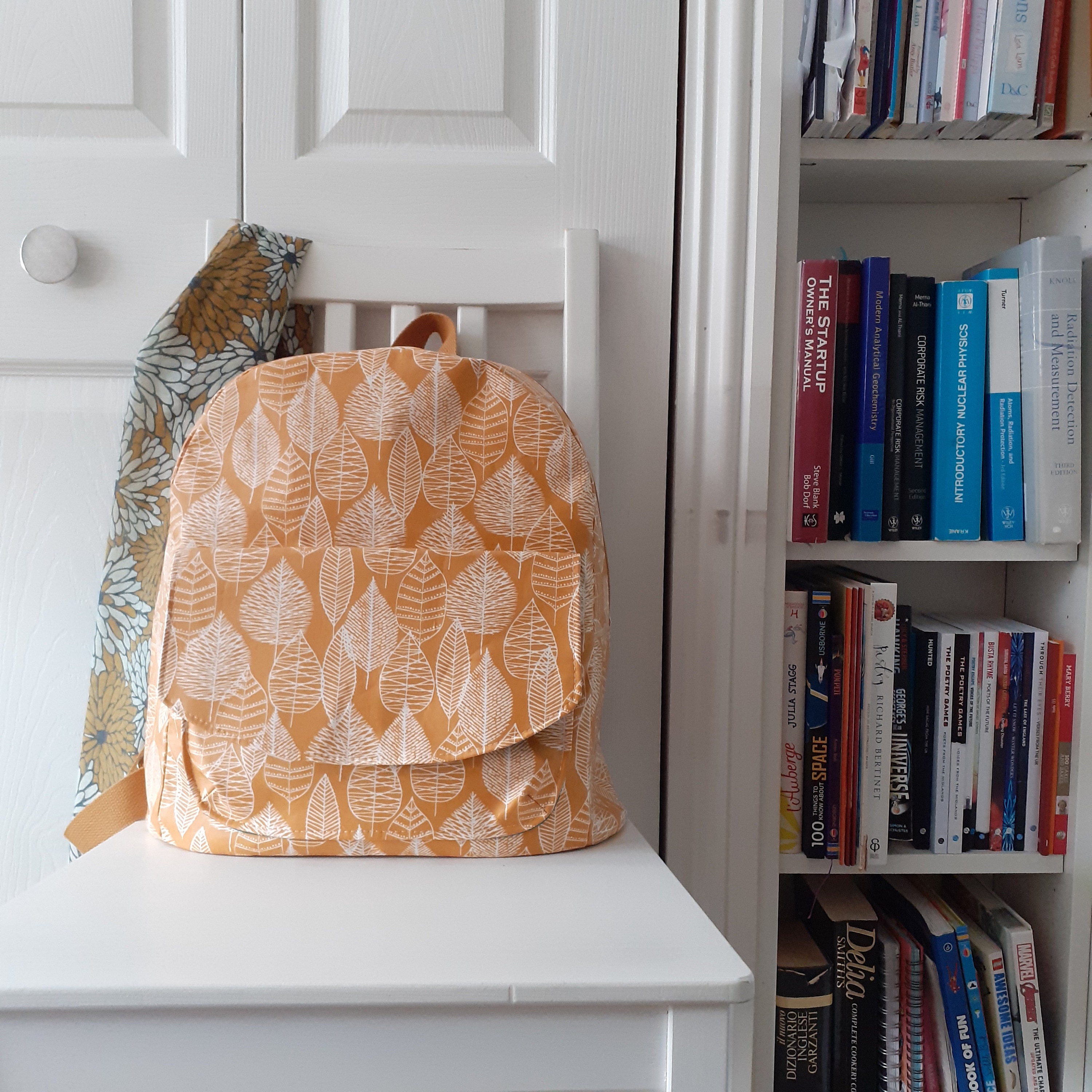 So the Parachute Knapsack comes in 3 sizes, small (baby), medium (mama bear) and large (daddy bear huge)! Unless you are really tall or want to carry a small child in your backpack (which some of the testers demonstrated was possible!) I'd stick to making the medium size for an everyday backpack! The small is dinky, perfect for carrying just the essentials.  
I made the medium size in this "Line Leaf" mustard Matte Laminate from Cloud 9 Fabrics for a water resistant exterior. See how big the medium is? I'm 5ft 7in tall.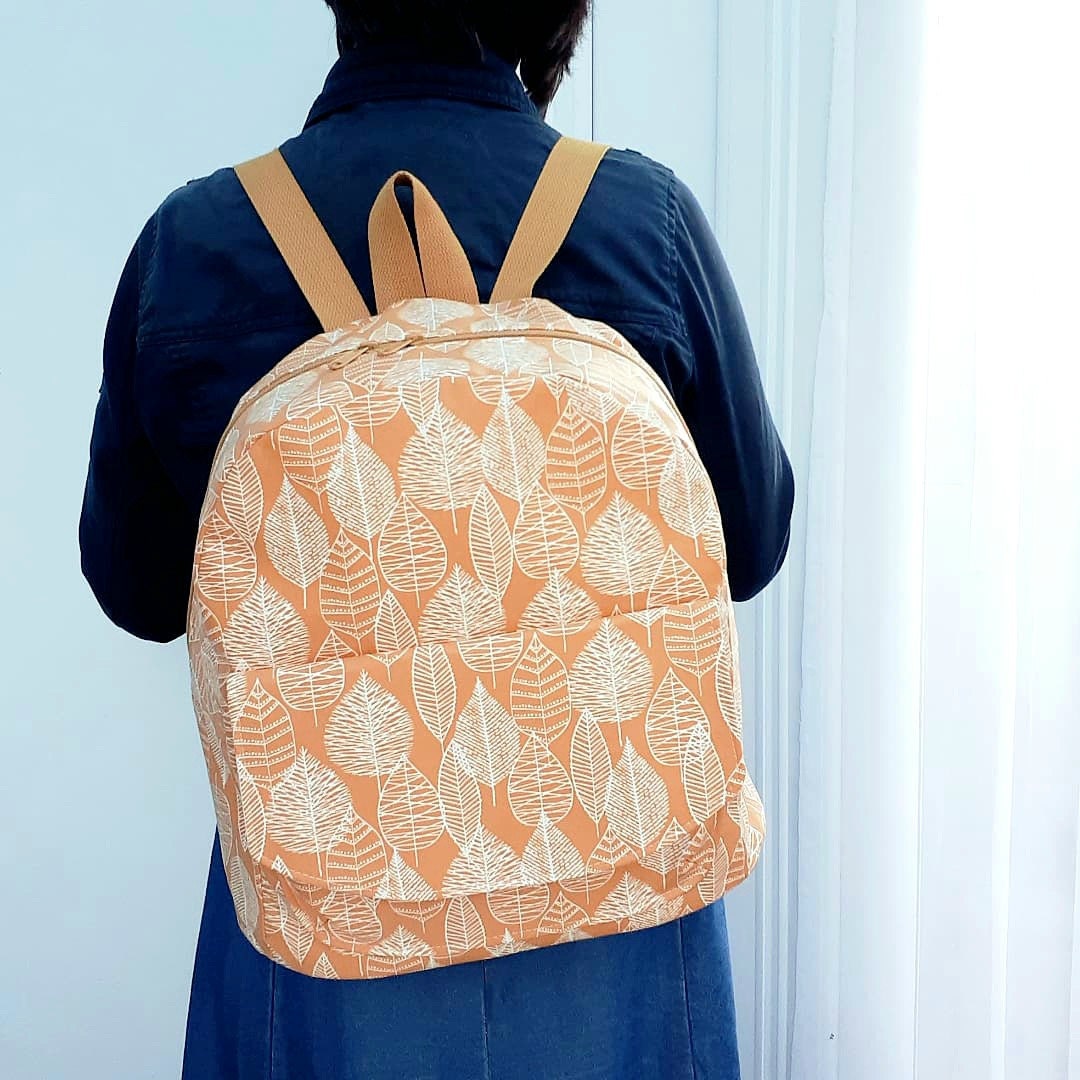 The back of the backpack has a vertical zipped pocket for storing important items like your passport or tickets safely against your back, while still easy to retrieve without opening up the entire bag. I used a wider webbing of 1.25" for extra comfort on the shoulders.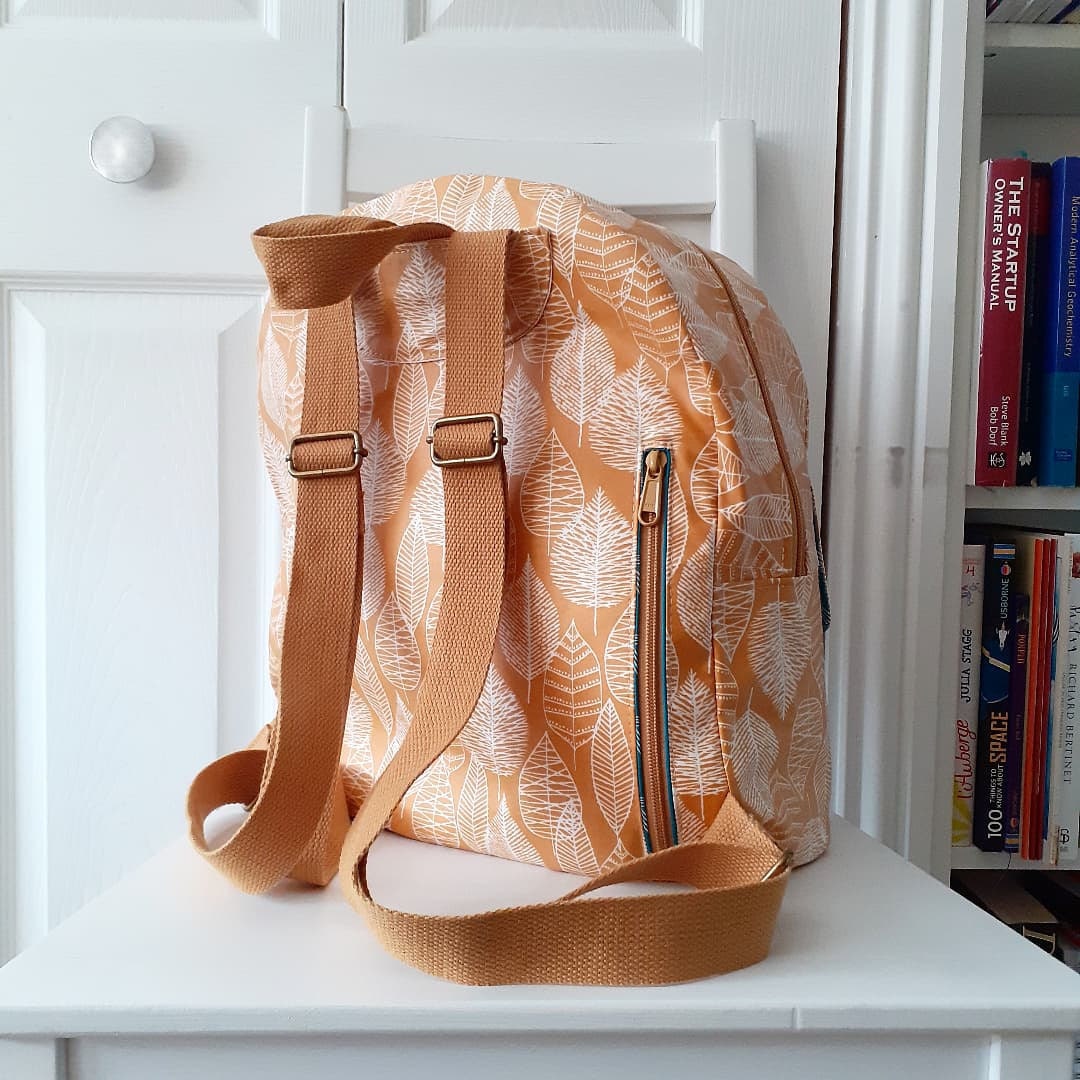 The front of the bag has a handy flap pocket for your sunnies, tissues, hand sanitiser, etc and closes securely with a magnetic snap. The bag is surprisingly lightweight for it's size and very roomy to pack more stuff in.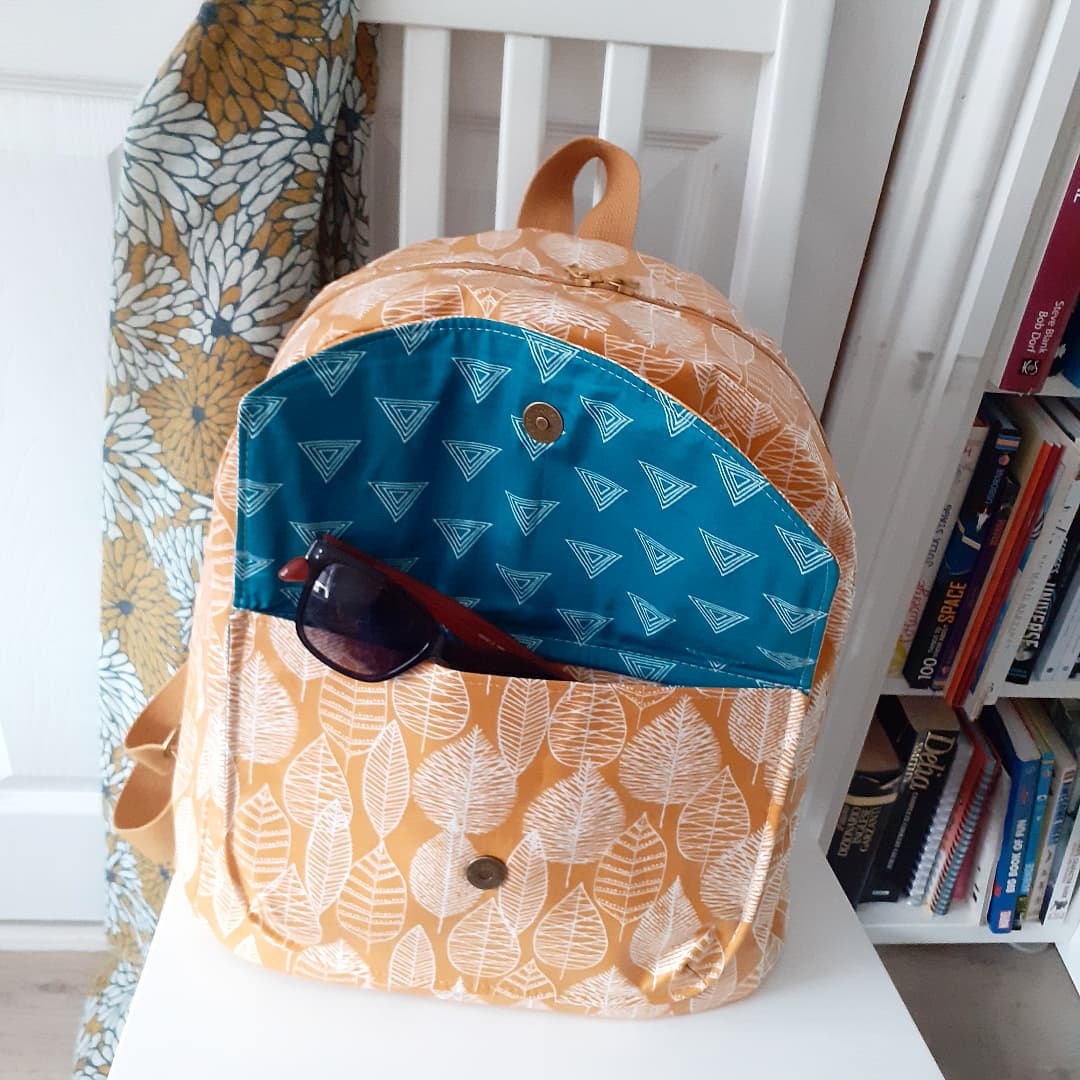 A spacious interior, with a padded slip pocket to hold a gadget and a wide zipped pocket. A clever construction, my bag maker friends will be happy to learn that it does not have a drop-in lining with cumbersome topstitching, nor does it require binding the seams - it's a magic trick and you'll just have to get the pattern to discover how it comes together!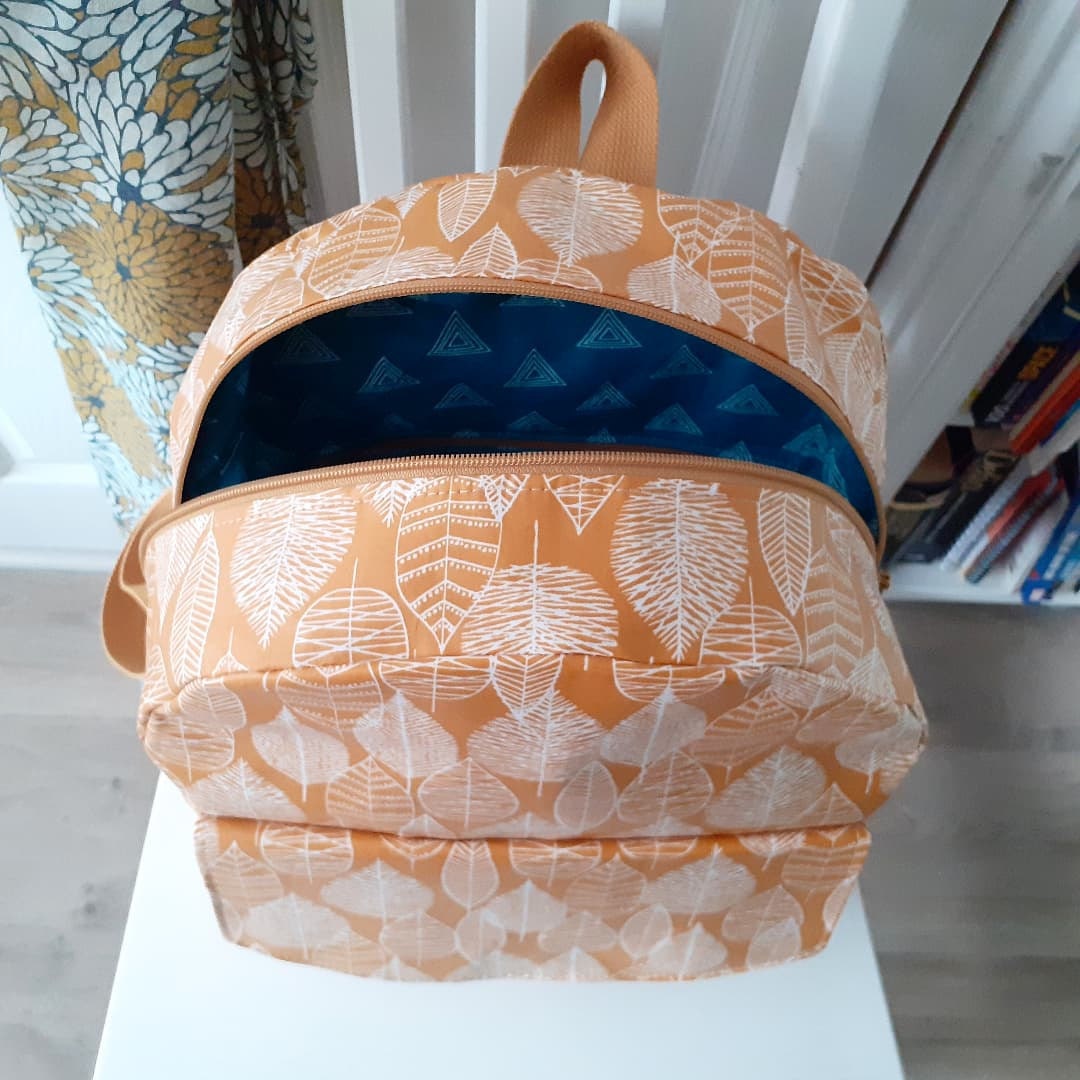 The base of the backpack is firm and oval shaped, I used a mustard faux leather for contrast and also durability.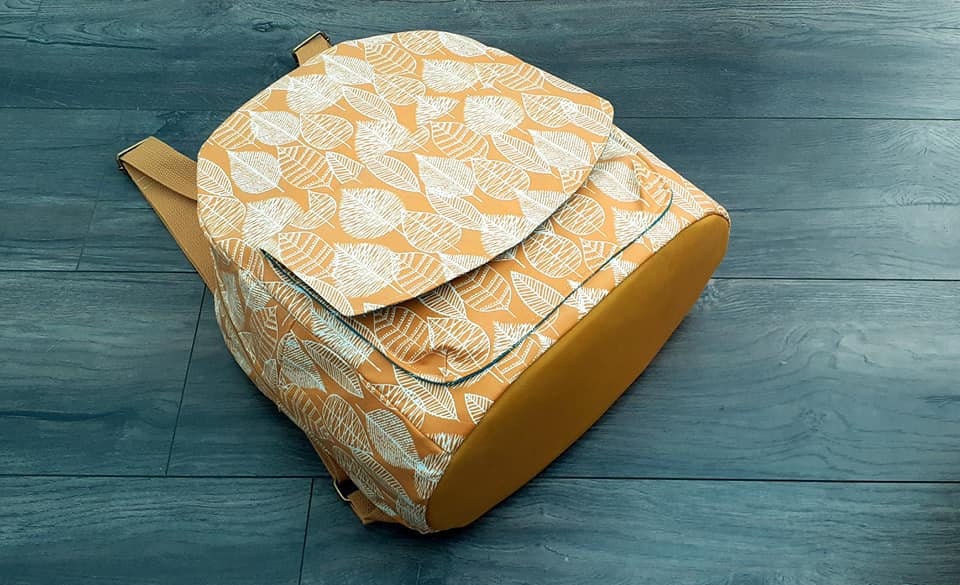 So there you have it, another brilliant design from Sincerely Jen Patterns and as with all her patterns, it comes with a full length video on how to make the backpack and is domestic machine friendly. Fancy having a go at making one? You can grab your copy of the Parachute Knapsack pattern here. 
As for this one, it's heading into my Shop at a special sample price too!