One of my new year resolutions was to get out more, meet like-minded, local small businesses and get Sew Sofia beyond the four walls of my house! I consider myself a pretty sociable person anyway, but let's face it, working from home for anyone can be quite isolating and lonely at times. So when I discovered there was an Etsy team in Leicestershire, I jumped at the chance to join their monthly networking meet-ups and am so pleased I did! What a friendly and helpful bunch they turned out to be, plus an added bonus that I got to discover some more beautiful and local shops to buy from! 
April's meet up was on the hottest day of the year so we sat outdoors at the St Martin's Coffee Roasters in St Martin's Square, Leicester. This month's meeting was also a show-and-tell so we brought samples of our products along - a great conversation starter and so interesting to discover what everyone makes/sells!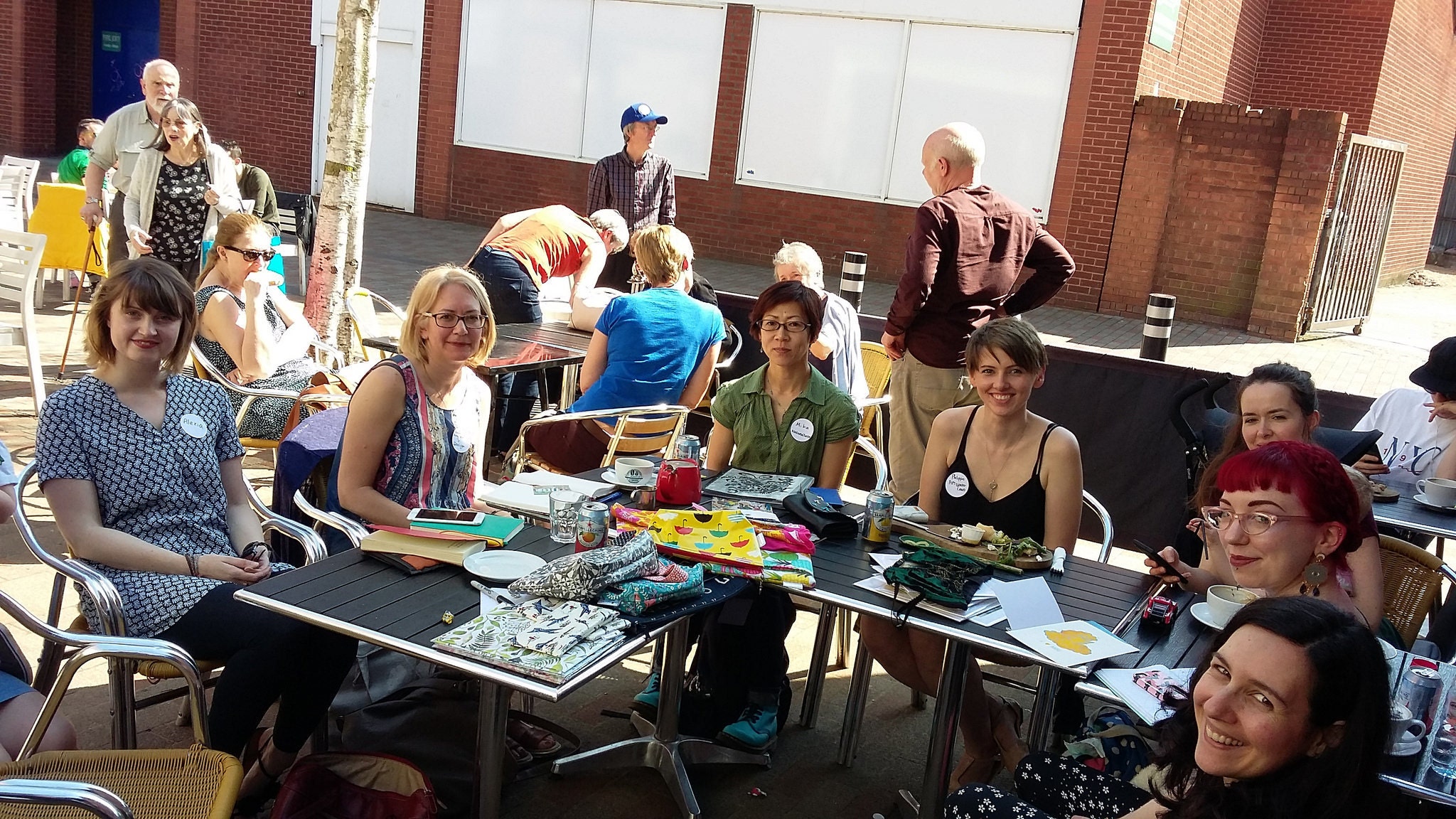 Here's who came along with links to their lovely shops! 
Alexia Swirkowski - Alexia Claire - stationery designer
Sarah King of Sarah King Art & Design - mixed media artist
Mika Mihell - Wakamatsuya Japan themed items (calligraphy, paintings, greeting cards, Jewellery
Phillipa Carney - Pip's Wonderland - bag maker
Gerry Manns - Dotty Duck - clothing for children and Avocado Handmade for eco friendly fabric reusables
Meg Foxall - Leda by Night - lingerie designer
Camille Medina- Camille Medina Designs
Jo Hartshorne - Ginger & Jo - clothing for 0-5
Maddy Flynn - Maddy Vintage Hostess - vintage china and gifts
Louise Ambrosi (me!) - Sew Sofia - bag maker
If you are a maker/seller on Etsy and based in Leicestershire, you can join the Leicestershire Etsy Team on Etsy and Leicesteshire Etsy Group on Facebook. There is also a community page for non Etsy sellers who are interested in finding out more about our group and upcoming craft fairs.